E-Flite Electrajet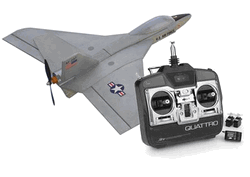 Excitement in the Air, E-Flite's new Electrajet combines the exciting looks of a futuristic fighter jet with the convenience of foam construction and electric power in one easy-to-fly package. 
Constructed from high-impact injection-molded foam, it can be built in as little as three hours. Wings and fins key into the fuselage, insuring proper alignment. The control surfaces are hinged, using the included Mylar plastic hinges. A transmitter with delta mixing is not required. Any aircraft radio with three or more channels can be used, thanks to the included on-board electronic delta mixer. You just plug the delta mixer into the elevator and aileron channels on the receiver and then connect it to the left and right wing servos. It takes care of the rest.
---
It comes with E-Flite's Maxx 25 electronic speed controller, a 380 motor, and a gear reduction unit with prop. The gear reduction offers greater thrust and endurance than a direct drive would, yielding flight times in the 5- to 7-minute range.
We found an open lot across the street from our offices to be the ideal proving ground for flight performance of the rc plane. That's the real beauty of compact electric airplanes-they can be flown in fairly confined areas such as a park or vacant lot because of their slower speeds, hand launch convenience, and quieter operation. 
With a fully charged 8-cell 700mAh pack, the electrajet plane aggressively climbs out after launch. The "whirring" sound of its 380 motor and futuristic jet styling resonate with an authentic turbine sound and feel that will have you humming "Danger Zone" before you know it. Full throttle 18-to 20-mph "high-speed" passes are typical. Because the Electrajet uses delta mixing, it's not limited to pitch and rudder; it can roll too.
---
The Electrajet's flight pack fits snugly in the fuselage and can be moved forward or aft to adjust CG.
Where the Electrajet is most impressive is in the slow-speed envelope. The Electrajet is nearly impossible to stall and will fly rock-stable at nose-high attitudes with near full-up elevator and a low throttle setting. Flight characteristics like these which are common to delta wing aircraft made shooting pinpoint landings a piece of cake. We had the most fun, though, conducting low-level "air strikes" that included high banking turns around the bushes and strafing the windows on the business next door. They probably thought we had too much fun.
Anyone looking for a quick building, easy-to-maintain electric park flyer should give the E-Flite™ Electrajet a close look. Its supersonic jet-fighter looks and delta-wing maneuverability make for one of the most rewarding park flyer experiences available anywhere.
Other Popular RC Jets
More info on RC jets.

More Manufacturers of Electric RC Planes, Jets and Helicopters
Popular RC Jets, planes and helicopters from other manufacturers
RC Plane Talk - Remote Control Planes, Jets, Helicopters, Tips, RC Hobby Shops... Check out our home page for more on electric rc planes, jets and helicopters.