Jenny JN4 RC Plane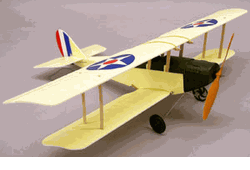 The SIG jenny jn4 rc plane ARF is constructed of a super light weight, yet strong injection molded foam that is factory finished in a beautiful, authentic color scheme. No additional painting or finishing is required, other than affixing the unique, contour-following decals. 
Assembly couldn't be easier. With the Jenny's nicely molded one piece foam wings, tough plywood cabane struts, molded plastic cowling and cockpit sections, and a robust scale-like landing gear with light weight wheels and covers, this airplane goes together quick.
Completing the package are a powerful 180 electric motor with gear box, a scale-like wood finish propeller and a complete, fully illustrated assembly manual for beginner and expert alike. 
Flying the SIG Jenny JN4 ARF is all you want it to be. In a gentle breeze outdoors, the Jenny jn4 breaks ground quick and points to the sky. Fly straight and solid, then turn it on with your favorite barnstormer maneuvers. We don't recommend wing walking. And if the weather's not right to fly outdoors, take your Jenny to the local gym and tear up the indoor skies.
---
More On SIG Manufacturing electric rc planes
Best RC Hobby Shops For Cox RC Planes
Places to buy Cox r/c planes, parts, and accessories online.


Other Popular RC Planes And Helicopters
Popular models from other manufacturers.

Intro to Hobby Quality Remote Control Planes And Helicopters
An introduction to top quality remote control planes and helicopters.


RC Plane Talk.com - Remote Control Planes, Tips, R/C Shops, And More! Be sure to Check out our main page for more rc planes, helicopters and rc kits from other popular manufacturers.