F16 Fighting Falcon
Electric Jet RC Plane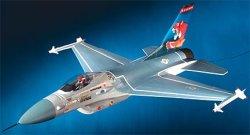 F16 fighting falcon Jet RC Plane comes with everything you need to start your jet training, i.e. the radio control, motor, motor controller, nicad battery pack, charger and ducted fan. 

It has a 22.5" wingspan, 29" long, 138sq.in. wing area, and 13.5oz. flying weight. It's pre-painted hollow molded foam fuselage and wings with extreme details are molded in. This is for the experienced modeler because the kit was designed as a freeflight kit. This jet uses the efficient Vasa 55 carbon fiber fan unit. Our model flies very well with the recommended parts. The jet is easily hand launched, flies like a parkflyer and lands slowly. Controls are aileron, elevator, and motor control. 

The nitro version of the F16 is faster and much larger than its electric counterpart. Checkout the nitro F16 fighting falcon jet rc plane here.
---
F16 Fighting Falcon RC Jet Airplanes
For more on Ducted Fan Jet RC Airplanes click here.
RC Plane Talk.com - Remote Control Planes, R/C Shops, Tips And More!
Be sure to Check out our main page for more Ducted Fan electric and nitro gas powered planes.