E-flite RC Planes
The J-3 Cub 450 ARF airplane is an electric rc plane designed to make flying simple and straight-forward. It's a a fun and easy flyer too!
The J-3 Cub 450 comes with all the great scale features you would expect from such a well thought out design. It is such a smooth lazy flyer and with great scale appearance, you can't help but be relaxed once getting behind the controls. The scaled ailerons light ply and quality balsa construction give this plane a lightweight airframe that handles incredibly well in just about any flight envelope.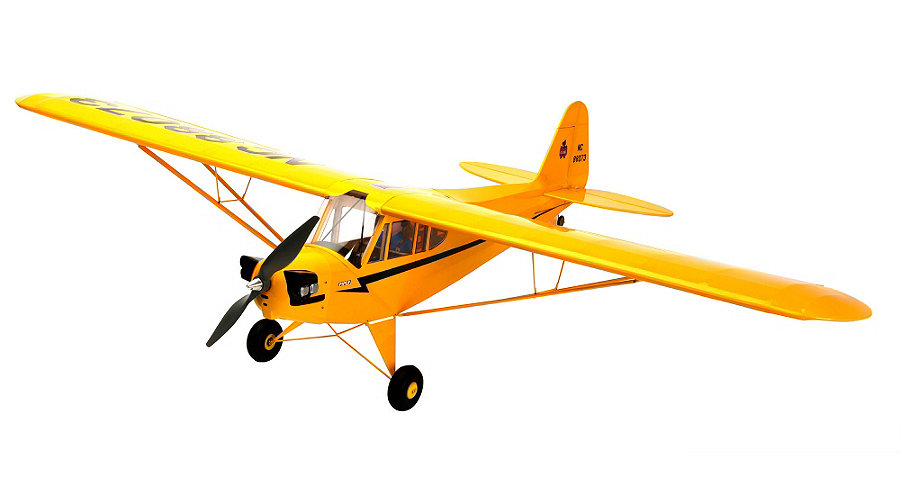 The firewall is set up for use with an out runner motor, such as E-flite's Park 450 or 480 ensuring a perfect power match for the airframe. 
Easily transported to and from virtually any flying field, yet small enough to fit in the average sized trunk.
The installation manual is clear with detailed instructions.
The
J-3 Cub 450
is such a high quality model with such ease of assembly that you will be amazed at how easily it goes together.
Features:
Outstanding scale detail
Scale aileron design
Easy transport to the field
Steerable tailwheel

Factory-painted landing gear with authentic Cub wheel caps
Quality balsa and light-ply construction, and genuine Ultracoat covering
Outrunner-ready firewall—perfect match for E-flite's Park 450 - 480 Outrunner, 890/910 Kv
Flies great with 11.1V 3S 1800-2200mAh LiPo
Additional Parts required:
To complete your kit you will need the following items:
4+ channel receiver and transmitter radio system
More on E-flite RC Model Planes
---
Best RC Hobby Shops For e-flite RC Planes
Places to buy e-flite r/c planes, parts, and accessories online.


Other Popular RC Planes And Helicopters
Popular models from other manufacturers.

Intro to Quality Hobby Remote Control Planes And Helicopters
An introduction to top quality remote control planes and helicopters.


RC Plane Talk.com - Remote Control Planes, Tips, R/C Shops, And More! Be sure to Check out our main page for more rc planes, helicopters and rc kits from other popular manufacturers.