Hangar 9 T-6 Texan - 60
The hangar 9 t-6 texan, the advanced trainer of choice for America and her allies during WWII, gave hundreds of thousands of pilots their first glimpse of aerial combat maneuvers before they were plunged into actual combat over Europe and the Pacific.
Live the t6 texan adventure, the plane that thrilled thousands at the world famous Reno Air Races and currently thrills thousands more at air shows across the country as part of a 3-plane precision aerobatics team. Experience the thrills and excitement of being a WWII fighter pilot with the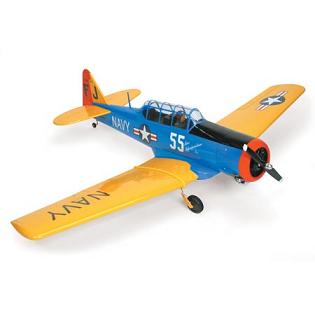 See the hangar 9 t-6 texan in action. Like its full-scale inspiration, the Hangar 9 t-6 texan is also a stunning performer that is great for sport aerobatics, club pylon racing, or just buzzing around the pattern.
Scale details abound - Factory painted fiberglass cowl
Factory installed retracts with gear doors
Mock radial engine

The authentic trim scheme is reproduced in painstaking detail using genuine Hangar 9 Ultracote.
No other .60 size Texan ARF offers this level of scale realism and fantastic flight characteristics as Hangar 9's AT-6 Texan.

Specifications:
Wing Span: 67.5 in (1714 mm)
Overall Length: 48 in (1219 mm)
Wing Area: 706 sq in (45.54 dm²)
Flying Weight: 7 - 8.5 lb (3.17 - 3.85 kg)
Engine Size: .60 - .78 2-stroke, .65 - 1.00 4-stroke
Radio: 5 channel
Servos: 5 standard and 1 retract

Recommended Engine:
Saito FA91S .9 - Delivers 1.7 horsepower
---
Other Popular RC Planes And Helicopters
Popular models from other manufacturers.

Intro to Quality Hobby Remote Control Planes And Helicopters
An introduction to top quality remote control planes and helicopters.


RC Plane Talk.com - Remote Control Planes, Tips, R/C Shops, And More! Be sure to Check out our main page for more rc planes, helicopters and rc kits from other popular manufacturers.