Hummingbird Electric Indoor Helicopter
The All-New Century Hummingbird is the perfect electric helicopter for indoor flying and calm days at the park. Truly ready-to-fly, just open the box, and you will be hovering around the living room in just under 1 Hour! At just over 9 ounces, it will fly for 7-10 minutes on the supplied 7 cell NiMH battery and included charger. 
This extremely durable hummingbird helicopter is just what every hobbyist needs, as it does not take experience or even a simulator to fly this ultra stable fixed-pitch helicopter.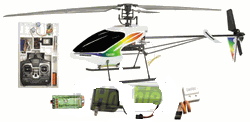 Century Hummingbird V4 RTF w/ELite 6Ch FM comes with all the works: 6-channel, two stick radio with servo reversing, LCD screen, trainer port, two servos and charge jack for optional NiCds! 
Requires installation of the servos, gyro, and receiver with the included double sided tape. Total installation is very simple and takes only about 10 minutes to complete! The only hard part about it is charging the battery. Time to have fun!
I do have one important tip for you when setting up your Hummingbird. And that is to ensure that the rudder lead that goes from the esc/mixer/Hummingboard is plugged into the proper connector on the century gyro, because it can be plugged in both ways. And getting them reversed will cause you to have spin-up problems.
---
More on the Century Hummingbird
Indoor electric Helicopter
Century RC Helicopters
For more info on Century rc Helicopters click here.

RC Plane Talk.com - Remote Control Planes, R/C Shops, Tips And More!
Be sure to Check out our main page for more electric and nitro gas powered planes and helicopters.