OUTLAW RTF
HobbyZone® pioneered radio controlled sports when it introduced the Firebird™ line of ready-to-fly RC aircraft. This unique line of airplanes is the first to effectively deliver on the promise of a successful first flight right out of the box, even if you'd never touched an RC transmitter before. With the addition of the Firebird Outlaw™ to this lineup,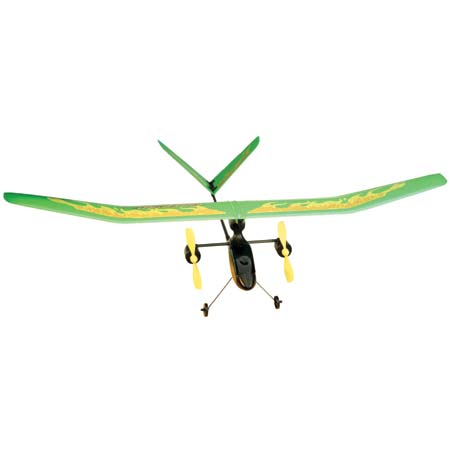 HobbyZone realizes another dream—a no-experience-necessary RC airplane that includes everything you need to get flying for about $60. You get an airplane, transmitter with a 9V battery, rechargeable airplane battery, and an AC wall charger all in one box. There is literally nothing left to buy.
But outstanding value isn't the only thing the Firebird Outlaw's got going for it. Like the rest of the Firebird line, the Firebird Outlaw is a hobby-quality aircraft that uses the same technology found on much more complex radio control planes. Its FM transmitter provides excellent signal range and the controls are fully proportional for a smooth precise feel that is one of the reasons it's so easy to fly. It also boasts an impressive 10-minute flight time—more than twice as long as other RC planes in its category.
Beginners only have to master two controls: throttle and steering. Equipped with a twin-engine propulsion system, the Firebird Outlaw climbs and descends when power is increased or decreased. Differential thrust controls direction. Sophisticated circuitry precisely controls the differential thrust so beginners don't over control and crash. Even if things do get a little out of control, HobbyZone provides full parts support to get you back in the air in no time.
Earning your RC wings has never been this easy or affordable.
Features:
Two-stick proportional controller with a 1,500-foot range allows you to fly farther
High-capacity, rechargeable battery pack provides more than twice the flying time of other RC planes-a full 10 minutes
Compact wall charger lets you recharge battery packs at home before you fly
Proportional twin-motor power system boosts climb performance
HobbyZone's fully proportional Digital Flight-Trak control system makes flying as easy as steering an RC Car and prevents steep turns that can lead to spiraling out of control
Trim tabs let you fine tune the Firebird Outlaw's handling exactly the way you want it
"Flying the Firebird Outlaw" video CD with assembly instructions and flying tips makes getting started easier
Specially designed wing will have you flying higher, faster and farther than other RC planes
Specifications
Wingspan: 27.25 in
Length: 21.375 in
Weight (w/Battery): 6.5 oz
Motor: Super 130 (2)
Battery: 5-cell 8V, 300mAh NI-MH
Radio: Proportional 2-channel FM with Digital Flight-Trak
Frequency: 6 frequencies on 27 MHz
Charger: 2.5-hr wall pack
Landing Gear: yes
Average Flight Time: 10 minutes
Reception Range: 1,500 feet
Kit Includes
Proportional, 2-channel FM Radio
5-cell NI-MH Battery Pack
Wall Charger
Firebird Outlaw - Red or Green Wing
Instructional Video CD
9V Battery for Radio
---
More On RC Planes and Helicopters
Top RC Hobby Shops, Dealers, and Online Stores 
Where to buy rc planes, helicopters, parts, tools, and accessories online. 
R/C Plane Talk.com - EVERYTHING You Need to Know About RC Planes, Helicopters And Jets 
Click here to check out our main page for more on rc planes, helicopters and Jets.