P51 Mustang ARF - .60
Hangar 9's popular P51 Mustang series is the new P-51D Miss America 60 ARF with authentic red, white and blue UltraCote® trim scheme and a preinstalled retractable landing gear.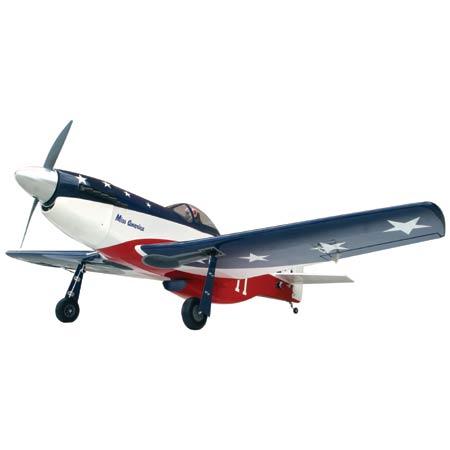 The Miss America P-51 Mustang has a sturdy fiberglass cowl, and comes with retracts pre-installed. This alone will save the modeler lots of time.
It can rip and bank like any nimble .60-size sport plane, handling full-throttle loops, hard turns, low-level breaking passes and high-G maneuvers with assurance.
The exceptional scale appearance is enhanced by it's smooth contours, authentic Miss America markings and gorgeous trim scheme.
The most impressive ARF feature has to be the preinstalled retractable landing gear. Each wing half comes out of the box with the retract mechanisms completely installed. All that's left for the modeler to do is install a compatible retract servo, like JR's low-profile S703 or Expert's low-profile SL680. 
Total assembly time takes as little as 20 hours. Depending on the type of engine chosen, the finished model weighs in at around 7 pounds completely assembled.
The Hangar 9 Mustang is compatible with .60 - .78 2-strokes and .91 to 1.00 4-strokes.  I recommend the Saito FA 100 four stroke engine for the P51 mustang because it will turn a 14x8 prop 300 to 700 rpm more than either the Saito .91 or O.S. .91. engines, and it weighs nearly 2 ounces less. The high thrust-to-weight ratio that this engine gives the Mustang makes for some spine-tingling moments. Because it's a .60 size, the P51 Mustang looks very much like the real thing. 
So if you've always wanted a scale warbird but simply didn't want to invest the time usually required to build one, you'll love this P51 Mustang. It's unique size, realistic proportions and authentic trim scheme easily make it one of the finest ARF versions of the mighty Mustang you will be able to find anywhere.
Learn more about the P51 mustang at the Aviation History On-line Museum.
Happy flying!
---
Top RC Hobby Shops, Dealers, and Online Stores 
Where to buy rc planes, helicopters, parts, tools, and accessories online. 
R/C Plane Talk.com - EVERYTHING You Need to Know About RC Planes, Helicopters And Jets 
Click here to check out our main page for more on rc planes, helicopters and Jets.