Slow Stick ARF Park Flyer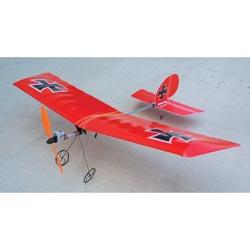 Overview
The Slow stick ARF park flyer is an excellent plane for the beginner to learn to fly with. It's not only a great all-around-trainer, it's just a fun great flying plane that you'll enjoy for a long time to come.  People who learn to fly on this rc plane love it, and still love to fly it.
In today's fast paced world it's always nice to be able to kick back and take it slow. If you agree, the fantastic new slow stick ARF park flyer offers all the fun and excitement of small-scale electric flight at a relaxing pace. 
The Slow Stick is Based on the popular Pico Stick indoor slow flyer. It's specifically designed to be big enough for operation in light winds (nothing over 5 MPH), yet slow enough to let you launch it just about anywhere. Of course, if your'e just beginning, you shouldn't be flying in any major wind anyway. Just wait for a calm day. 
Take it from me, wind, trainers and inexperienced pilots don't mix. If you want to do some flying, and it's windy out, get a flight simulator such as the RealFlight G2 flight simulator (Mode 2), and save your airplane to fly another day.
You can have the slow stick ARF park flyer up and flying in as little as one evening thanks to its super-simple construction. It can be flown using standard or mini-sized sport servos, so you won't have to spend a fortune on the flight pack either. 
Features
Wingspan:41.3 inches
FLying Weight:76.53 to 7.05 oz.
Length:26.6 inches
Speed:8.5 to 15 ft/sec
Flying time: 5 to 15 min
More on GWS RC planes
Click here for more information on where to buy the
Pico Stick GWS Slow Stick ARF Park Flyer

Best RC Hobby Shops online
Great selection of RC planes, Helicopters, accessories and parts.

RC Plane Talk.com - Remote Control Planes, R/C Shops, Tips And More!
Be sure to Check out our main page for more electric and nitro gas powered RC planes.